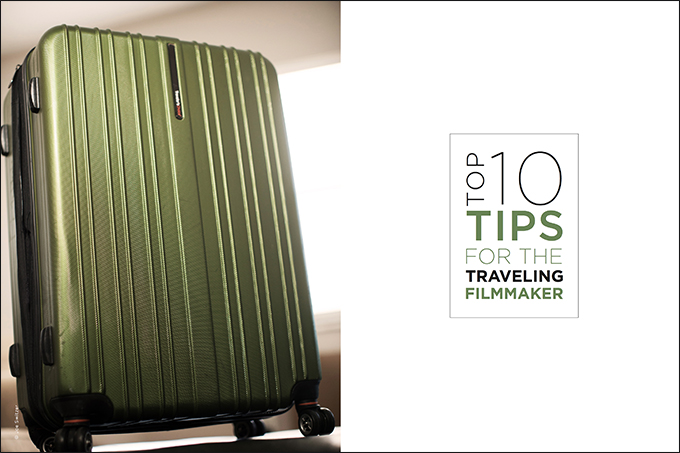 Top 10 Tips for the Traveling Filmmaker  
The majority of my corporate shoots are in locations I've never been before. We average five to 10 destination weddings a year. They require working out of suitcases, taxis and hotel rooms with limited time and resources. Filming at home in a studio is one thing, but bringing your filmmaking productions to Hawaii, Mexico, Chicago, New York, Los Angeles, England, Canada and everywhere in between is another. Over the past decade, I've made many traveling mistakes in my destination filmmaking. I'm going to try to help you avoid those mistakes.
Here are the top ten tips for the traveling filmmaker, in no particular order. (Keep in mind I'm not shooting television shows or Hollywood movies. This is for the independent filmmaker who is in charge of his own lighting, sound, directing and filming.)  
#10 – Pack light.
When I see other people's shoots, I can't help but think about all the wasted time and energy involved in lugging around all the extra gear. Overpacking can ruin the shoot before it starts. Do you really need three jackets and four pairs of shoes? Can you get by with fewer than five lights, three tripods and a drone? Extra bags slow you down and cost you time and money. Take the minimum you can get away with. I recommend a three-bag maximum. If you fly Southwest Airlines, you can check two bags for free and carry on the other bag, and it will cost you nothing as long as the bags weigh less than 50 pounds.
#9 – One price.
When we price destination weddings and corporate shoots, we always lump everything into one price. We treat people the way we want to be treated. No hidden costs or fees afterward. Clients appreciate this because they want simple pricing. They can do the math and add up fees with the competitive bids. There is a better chance they choose you because you are more upfront with your proposal.
#8 – Solid video tools.
Your camera tools need to be lightweight, compact and easy to use. Most importantly, these tools need to be tough and work in any condition. The camera tools I can't live without on the road are the Manfrotto MVM500A monopod, Rhino 2-foot slider and the Glidecam HD-4000. Always carry a tripod for interviews and time-lapses.
#7 – Camera and lens size.
In the past, traveling with larger cameras has cost me time and money. Overweight and oversize cameras slow you down. Filming with small cameras is faster and allows you to cover more territory quickly. We currently use the Sony A7s, and are transitioning to lighter Sony lenses instead of Canon. This will also allow us to get rid of the unpredictable Metabones adapters. You need to be able to turn your camera on and adjust the ISO, aperture and shutter speed quickly. What I've found over the years is that you miss out on valuable shots if you have a bulky camera that doesn't quickly respond to setting changes. All camera manufacturers have a camera that will work for you. Attend a trade show and try them out. Maybe rent gear until you find something you're comfortable with. Last year, we went from using Canon 5D Mark IIIs to Canon C100s. A few months later, we decided to try out the Sony A7s. Today, the only video camera we use is the A7s because it's the smallest camera with the fastest setting adjustments, and it works in all conditions.
#6 – Cash.
When you're traveling by yourself, get help from others when you can. Having at least $500 will help you get that extra hand with luggage whenever you need it. Another reason to have cash is that you never know what places accept only cash. Don't forgot that a credit card may or may not work out of the country, so call ahead to let your financial institution know you will be making transactions out of the country. Cash always helps when you're splitting bills or buying last-minute services. Don't run out of money on a shoot. It's embarrassing and causes problems. Get your cash ahead of time, and make sure you have plenty of it in $5 and $1 bills.
#5 – Arrive early.
Arrive to shoots at least 30 minutes early, and get to the airport at least two hours early. I've missed about 10 flights over the years, and it's always caused me unnecessary drama. Missing your flight can ruin the entire shoot. People are relying on you. They have times set aside for the video production. In most cases, the most valuable asset to them is their time. When you have to start rescheduling before the shoot starts, you have made the situation more difficult and annoying for the client. Executives don't want to hear your excuses about missing flights. You might not be able to reschedule that interview again. Arriving at least 30 minutes early sets you up for success. This gives you plenty of time to get those camera cards formatted, lights set up and audio tested. My favorite thing about showing up early is you have time to build some rapport with the company or your subject.
#4 – Overcharge.
We learned this the expensive way. When you travel, you have to think about the particulars of where you're going and what costs you could incur under the worst of circumstances. Working in the Bahamas versus working in the Midwest is huge. We work our travel expenses into the overall fee. Our most recent trip to the Bahamas cost us thousands for the hotel, food, drink and transportation. Traveling alone or traveling with four people makes a big difference. Taking care of yourself and your crew and taking clients out in the evenings is not cheap. Even though we overcharge for our travel fees, we usually spend it all. I usually spend a couple hundred dollars a day on food, drinks and convenience. Do plenty of research on the destination, and don't undercharge. Resort fees, taxes, tips, food, drinks, shipping costs and client dinners add up.
 #3 – Rock-the-dress post-day shoot for all weddings.
If you are taking the time to film a wedding, spending ample energy planning, packing and traveling, you need to strongly encourage your clients to do a post-day shoot. This is in the best interest of you and your client. Your customer has done all this planning and preparation, and spent all kinds of money. A post-wedding shoot allows your company and your clients to make the most of the situation. This is the time you have been waiting for to show off your creative chops. Your social media and marketing will be impacted positively. Take advantage of the opportunity to show your followers that they can hire you for any location. We usually tell the brides to take the day after the wedding off as a recovery day. Most of our post-wedding shoots are the second day after their wedding. This gives your team and the bride and groom time to rest and recover from all the fun.
#2 – Scouting.
Arrive a day or two early for weddings. This gives you and your team a chance to unwind, rest and, most importantly, scout the area. Scout for places to take creative photo and video shots. If you have planned a post-wedding rock-the-dress shoot, scout the day after the wedding. Try to get permission to shoot at those amazing spots, and know your locations. Your success is often determined by how well you scout.
#1 – Extra batteries and cards.
Do you think you'll have time to charge batteries? Think again. Everything that can go wrong on a shoot will go wrong. In Europe, I've had international chargers blow up and catch fire. Bring your chargers as backup, but invest in extra batteries. With extra cards and batteries, you won't have to worry about downloading and finding power outlets. Having enough batteries and cards to film for days will give you peace of mind when you're ready to rest after a long day of filmmaking.
Bonus tip! – Rewards card.
Get a good credit card that gives you points and rewards for your flights and transactions. Our Southwest Airlines card is our company credit card that we use to run the business. If you start traveling frequently, this card can really pay off with the benefit of a companion pass. Once you reach a certain points level, you get to select a person to fly with you for free. This saves our company thousands of dollars a year, and we also get points on the card that we can cash in on all sorts of products and services.