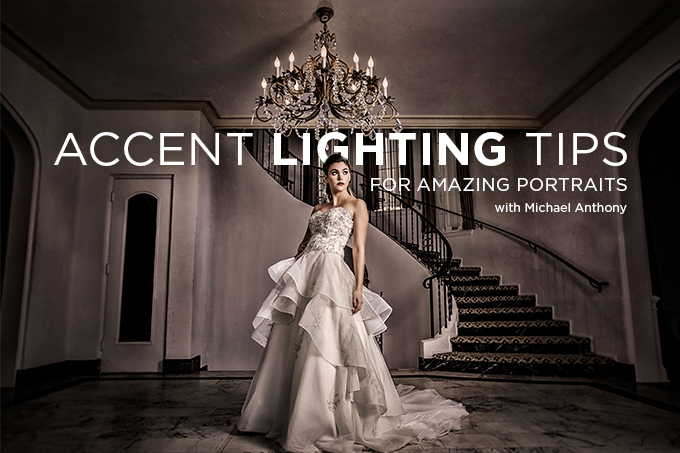 Accent Lighting Tips for Amazing Portraits
Oftentimes a wedding day is hectic.  There are many things going on, and as professionals, we are required to make sure that we are able to create beautiful images for our clients, despite lack of time, and circumstances that often do not lend itself to the ideal scenarios for taking good pictures.
When I see educators advocating complex lighting setups for wedding photography, I have to laugh because typically during bridal prep or portraits we do not have time to set up 4 lights, and even if we did, taking the time to measure the perfect ratios would take away from the time we should be spending interacting with our clients.
I have always advocated using multiple light sources to create dimensions in your images, however in the real world often we are using a single artificial light, and blending it with the ambient light available to us.  Typically, our artificial light source Is used for accent lighting.
When it comes to speed, the portability of your light source is important, therefore for accent lighting we are using either speedlights with the Magmod system or video lights, particularly the Westcott Icelight.
In order to create dimension to our images, we are typically using natural light as our key light from a window or other directional light source, and our artificial light as a rim light or background light.
In order to do this correctly you will want to make sure that your accent light is equal or lower power than your key light.
Rim Light
One of the most typical ways we use accent lighting on a wedding day is as a rim light.  By positioning your subject so that the key light is lighting the short side of their face, you are able to position the accent light opposite the key light, which will allow you to create a three-dimensional feel to your images.
Background Light
Another great way to create a unique portrait is to light your background.  When doing this, use the floor stand that your speedlight came with, and use a gel that will compliment the colors in your scene.  Place the light on the floor and close to the wall pointing upward.  You can silhouette your subjects as well.  Lamp shades are also a great way to accomplish this look.
Detail Shot Lighting
I often use accent lighting on my detail shots as well.  This works great when using the Westcott Icelight with barn doors or a Magmod gridded flash.  Here are a couple of examples of how we use this technique on our details images.
No matter what source of light you are using, making sure that you are using light to create dimension in your portraits is paramount to standing out above the crowded field of photographers in your market.  Always look for new ways to innovate your techniques so that when it comes time for a bride to choose who they are going to hire, your name is at the top of the list.