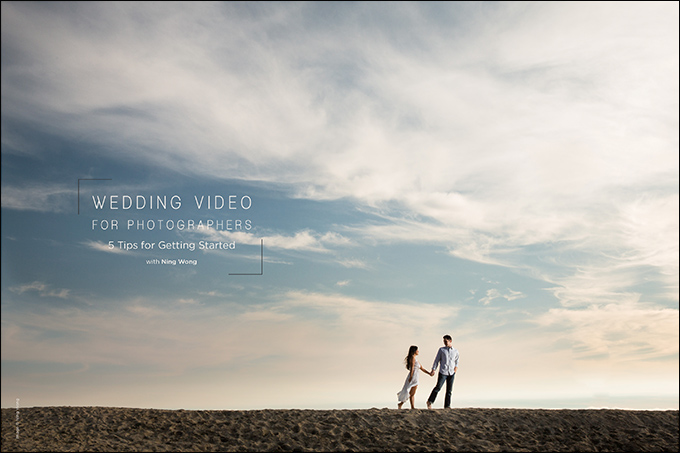 Wedding Video for Photographers: 5 Tips for Getting Started with Ning Wong
Want more information on this article? Get access to video content and additional supporting images. Launch the May issue of the magazine by logging in or signing up for a free account by clicking here. Shutter Magazine is the industry's leading professional photography magazine.
When I started my wedding photography business seven years ago, I never imagined I would become a videographer as well. The Canon 5D Mark II had recently been announced, and the DSLR video revolution was born. When Canon added the ability to capture video on the DSLR, it was a game changer: Now you could create cinema-quality films using your DSLR, lenses and accessories.
After a dozen or so requests for video, I felt that I should start adding it to my business. I was tired of losing these leads to others. So, about five years ago, I went for it, and it was one of the best decisions of my life.
I apprenticed under a local videographer, took workshops and learned through trial and error. The learning process never ends. Even now I am still learning new techniques and ideas that help elevate my wedding films to another level. I encourage you to reach out to fellow videographers. On-the-job experience is extremely valuable, teaching you things you can't read about online.
If I could go back in time and give myself five tips for getting started in wedding videography, here is what I would tell myself.
Know your gear.
Knowing the ins and outs of your gear is crucial. You don't want to be fumbling around on a wedding day trying to figure out how to change the ISO or white balance. If you know how to use your gear, you can concentrate on shooting the wedding.
If you aren't confident with your gear, practice whenever you can. Go out, shoot stuff, read the manual, look for tutorials. Practice makes perfect. Look at it like this: If you were a concert pianist, you would spend countless hours practicing your music before a concert. You wouldn't wait until you got onstage to start practicing.
Think of the concert like your wedding. Don't practice when you are "performing" at the concert. Spend all the time before your event to practice so that when it comes to your client's wedding day, you are ready to perform.
Use a tripod or monopod.
Shaky footage is not your friend. One of the biggest beginner mistakes is to not use proper support for your camera. Whether it's a tripod, monopod or gimbal, use something that will help keep your footage steady.
If you want a simple way to add production value to your film, keep your footage stable. While you're at it, once you have a good shot lined up, focused and exposed on your tripod, leave your tripod and camera alone. Quit fidgeting with it—you don't want to ruin a perfectly useable shot just because you couldn't keep your hands off your camera.
Shoot for the edit.
When you're shooting different kinds of shots throughout the wedding day, keep in mind what each shot will be used for. Don't just take a shot that doesn't have any purpose. You want each shot to help drive the story of the wedding.
Shoot for transitions. That means using a slider or a pan/tilt movement to bring your viewer into the scene.
I encourage everyone to edit their own footage. That way, you can critique your shots and work on improving. If you do the editing yourself, you'll quickly learn how to shoot certain shots and shoot for transitions, and how to make your life easier.
Anticipate the unexpected.
A wedding photographer should be able to anticipate when the moments happen—things like the first kiss, a relative crying during the vows and the first look.
Shooting video is tougher because you have to be ready to shoot the moment something happens. If you always keep your eyes peeled and ready to go, you'll be able to anticipate the unexpected.
Of course, make sure you still shoot the safe shots first so you get what the client expects. But you also want to wow them with those creative shots they weren't expecting.
Shoot B-roll.
B-roll (for "background roll") is extra footage that is used to enhance your film. Some great examples of B-roll are audience reaction shots, your groom/bride getting ready and funny bridal party portrait shots.
B-roll boosts your storytelling. Instead of having talking heads yakking throughout the film, cut to B-roll for depth.
B-roll also helps you cover up messy transitions or unusable shots. You can cut from your main shot to B-roll, and then back to your main shot. That allows you to smooth over a jump cut or missing footage. You can also use B-roll during a voiceover to control your storytelling.
Bonus tips:
Show up early.
The early bird does, in fact, get the worm. If you want to get a head start shooting the day, show up early.
You'll quickly learn that videography takes a lot more gear and prep than photography does. Take the extra time to get your gear ready, to shoot B-roll and details, and to establish rapport with the wedding party before anyone else gets there.
Use licensed music and content.
When you create your client's wedding film, you may be tempted to use the latest song on the radio. But if you can't properly license that song, don't use it.
Musicians are artists, just like us. How would you feel if someone ripped off your work? Don't do that to someone else—use only licensed music.
Several websites offer great licensed music. One of my favorites is SongFreedom. They offer mainstream artists like One Republic, Imagine Dragons and Lady Gaga, along with a plethora of new and upcoming artists.
I purposely didn't tell you to know your audio and lighting, because these are basic things you should know before you start offering videography to your clients. These two elements are just as important as knowing how to shoot video on your camera. Learn how to properly capture audio, and use lighting to mold your wedding films.
Hopefully these tips will help you get started in the world of wedding videography. There will be so many things you'll have to learn and adapt to, but if you're willing to do it, you'll be able to start offering wedding videography to your couples too.
Want more information on this article? Get access to video content and additional supporting images. Launch the May issue of the magazine by logging in or signing up for a free account by clicking here. Shutter Magazine is the industry's leading professional photography magazine.