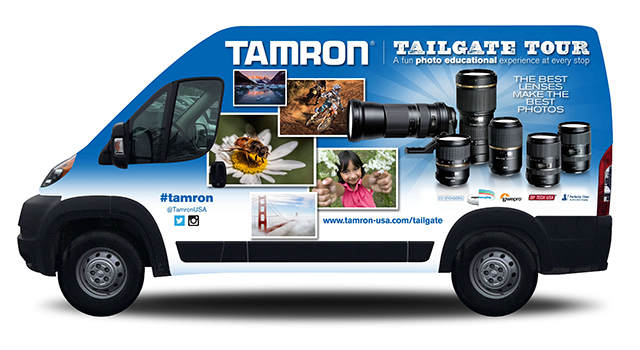 100-City Tour Will Turn Photo Store Parking Lots Into A Full Day Photo Experience
March 14, 2014, Commack, New York. – Tamron USA announced today that they are embarking on a 100-city national Tailgate Tour to promote photography education and Tamron lenses. A fully equipped Tamron van will be visiting camera stores throughout the country, turning mundane parking lots into photo celebrations, complete with free photography mini-sessions, test drives on the latest Tamron products, full evening seminars, specials on Tamron lenses and complimentary tailgate lunches at most participating retailers. This casual and fun approach to photography education is designed to offer easy and free access to great information to anyone interested in photography.  
 "Our Tamron Tailgate Tour demonstrates our commitment to help all levels of photographers take better images," said Stacie Errera, Chief Marketing Officer of Tamron USA. "Everyone can use a little help with their photography, and we want to come to hometowns across the country to invite people to discover how new technologies and simple suggestions can improve their results."
The Tamron Tailgate Tour will work with local photo retailers to deliver this unique learning experience. The Tamron van will pull into the parking lot and set up for a full day of education with Tamron tech team members on-hand from 12pm to 4pm to help people with their photography questions. And each day will feature team members offering four free mini-sessions under the Tamron Tailgate Learning Tent – "Configuring Your Camera Bag," "Achieving True Colors," "Enhancing Your Image," and "Choosing Your Next Lens," offered every hour starting at 12:30 PM. Raffles will take place at the end of the last session that begins at 3:30 PM.
For those looking for even more tips to creating better photographs, Tamron will offer a two-hour evening seminar entitled "10 Steps to Epic Images," taught by experienced Tamron tech photographers.  The cost of the seminars will be $25 dollars and will include a welcome bag with a reporter notebook and lens cleaning cloth. In select cities, an evening seminar plus an in-the-field workshop the next day will be offered for a total of $75.
Visitors will also see the latest in Tamron products, and be eligible to enter the #winatamron Instagram® contest, where they can win one of three Tamron 16-300mm All-In-One™ 18.8X zoom lenses at the end of the tour. Full contest details can be found at the Tamron Tailgate website on April 13th for the kick off of the tour. A Tailgate lunch will be served at most locations from 12pm to 2pm.
The Tamron Tailgate Tour is co-sponsored by partners Athentech Imaging, maker of Perfectly Clear plug-ins, the dominant image correction technology in use worldwide; ExpoImaging designs and manufactures ExpoDisc 2.0 white balance filters, Rogue FlashBenders and the Rogue Safari Pop-Up Flash Booster; Lowepro, one of the leading makers of camera bags and camera carrying systems and accessories; and OP/TECH USA, manufacturer of straps, pouches and accessories to fit cameras, lenses, tripods and electronics. The products from these leading industry companies perfectly compliment Tamron lenses and select products from their respective line-ups will be highlighted at each tour stop through demonstrations, raffle prizes and special offers.
"We hope that our Tamron Tailgate Tour will help inspire all of our attendees, from the casual snapshooter to the serious enthusiast, to take better images that will last a lifetime," said Errera.
For more information and to find out when the Tamron Tailgate Tour will be in your area, visit www.tamron-usa.com/tailgate.
About Tamron
"New Eyes for Industry" is Tamron's philosophy. This creed is consistent with the company's position as a comprehensive manufacturer of a wide range of original optical products, from interchangeable lenses for SLR cameras to various optical devices for both the general consumer and OEM. Tamron makes optical products that contribute to a range of different industries and will continue to devote its rich creativity and leading-edge technical prowess to various industrial fields. Furthermore, Tamron is fully aware of its responsibility to the environment and aspires to help preserve the natural environment in all of its business activities. Among its many optical and mechanical innovations since the founding of the company in 1950, Tamron's development of mass-produced hybrid Aspherical elements paved the way for today's compact high power All-In-One™ lenses when, in 1992, this technology was incorporated into the ground-breaking 28-200mm. Tamron continues to lead in this category of lenses with the 18-270mm Di II VC PZD — the world's smallest and lightest 15X All-In-One™ zoom lens featuring Tamron's proprietary VC (Vibration Compensation) system for blur-free hand-held shooting of photos in low light and at telephoto settings and PZD (Piezo Drive) autofocus system for fast and quiet autofocus operation. Tamron's recent SP (Super performance) lens introductions have received accolades and high praise from leading photographic magazines and websites for their outstanding best-in-class performance. Tamron has garnered international acclaim for its extensive line-up of professional and consumer lenses.
Visit: Tamron.com/tailgate/ for more information