5 tips to better SEO for photographers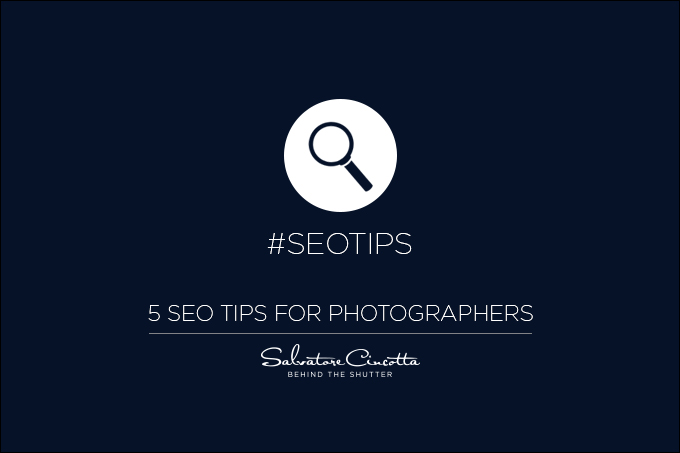 Marketing and finding new leads is something I have heard almost every photographer I speak to moan about. It's so hard. I can't get found online. Marketing is too expensive. I have no money. And the list goes on and on.
Well, if you have no money and you have no clients, then you need to start doing something about it. Complaining is not one of those things. In fact, are you really running a business? You need both to be "in-business" – just a personal thought here.
Part of the problem today, everyone is a photographer, including you. Yes, you! I know, I know, we all started somewhere, but you more than likely started without a real business plan. Most of us started with a camera and a dream. Well, now, you are realizing there is more to being a photographer than just running around taking pictures. We need capital, for equipment, for marketing, and the host of other business expenses required to run one.
However, there is hope. The one thing we do have that's worth something…. Time! When I was starting out, I didn't have much, but I had time. I call this sweat equity. You have to be willing to invest your personal time into your new business. If you now find yourself making yet another excuse, ie – "I don't have time." Just… stop reading. If all you want to do is be a photographer and nothing else that is required to run a business, well, then I hate to be Captain Obvious here, you don't have a business and you never will.
Ok, if you are still with me, here are some tips to getting your website found online and ideas to help you start generating new leads for your business with little to no cost required other than your time. We get 3-5 leads per week via Google search results. We are in the top 3 on page 1 as of this writing. So, follow along and get your business on the fast track to getting found online.
SEO, search engine optimization, is something I have heard many photographers claim they can't figure out. And I will be the first to admit it. The rules of the game are always changing. For almost 2 years, my business, Salvatore Cincotta Photography, was number one and two on page 1 for Google search results when searching for st louis wedding photography. Then, recently, Google changed the rules, which they often do, and I dropped to 5 and 6 on page one. I was in good shape, but seemingly overnight, my ranking dropped.
My point, this is not something you do once and done. It's something you have to nurture over and over. You need a strategy. And since you have time, there is no reason for not doing it.
Here are some simple tips and tricks you can use to get your site on the right path to being ranked in your local market and generating FREE leads for your business.
Define your master keyword list.
How do you want to be found? For me, based on some conversations with brides, I defined my keywords as "st louis wedding photography" and "st louis wedding photographer". Now you might be thinking to yourself, "what if I want to be found for babies, weddings, seniors, etc?" Well, you have quite the challenge ahead of you. It is much easier to get your site ranked on single set of keywords vs trying to optimize your site for everything. I chose to focus on my primary niche and the results show.
Keep it fresh.
Google is going to judge you for relevancy. Meaning, how often are you posting? If you are posting once per month or less than that, you are going to have some trouble. You site will start to look stale to Google and with that, any ranking you have, will start to slip. Trust me, I understand, we all get busy and sometimes there is just nothing to write about.
Here is something you can do. Put together a social media to-do list. And work it 30-60 days out. Come up with topics or posts to publish at least once per week. Some can be just pictures and talking about the shoot, while other posts can be more about ideas for selecting the perfect dress or the perfect pair of shoes, etc. Not only does this help you with Google, but it also helps establish yourself as an expert in your local market and can drive traffic and exposure to your site from potential clients.
Create a Google+ account.
Yep. I found out here recently that this has become very important in ranking your site and presenting the results on the search results page. For example, if someone is following you or your business on Google+ the results when they search are more likely to show your results because of the connection. In fact, it goes another step further. You will show up in the results of people who follow anyone who has +1 your content. This is a two for one deal with this little tip.
Now, this power tied to Google+ should be of no surprise to anyone since this is their platform, but apparently, the goal is to provide more personalized results that are seemingly more relevant.
Unlike Facebook and Twitter, which block Google from accessing their data, Google+ makes that data available for search engine ranking purposes. So, create content, and share it via Google+. It will make a big difference.
Don't over-stuff.
Keyword stuffing has been a trick used in one form or fashion since the beginning of SEO. However, with every new technique to hack the search engines comes the countermeasures to prevent them from being hacked.
Overusing your keywords on any given page on your site will undoubtedly get you black listed. There is a delicate balance between legit copy on your site and over-using your keywords. The key here is to ensure you are writing real paragraphs and providing real content to your readers all while not overusing your keywords.
Work hard to ensure you are creating valuable content for your readers and the ranking results will follow. If you create content for the sole purpose of getting ranked, that's usually where you get into trouble. Remember, when it comes to SEO, it's not a sprint. There is no silver bullet. It's a slow and methodical marathon.
Be responsive.
If you don't know what it means to have a responsive site, you are already behind the proverbial 8-ball. Today's clients are surfing via a plethora of devices and increasingly, those devices are mobile. In the past, developers would create multiple sites depending on where the client was coming from. Google has openly stated, that responsive web design is a best practice and they are building this into their ranking algorithm.
Why does Google care about this? Content that lives on a single website with a single code base is easier to share, engage with, and index than a site that is spread across multiple domains, etc.
So, what is a responsive web site? It's a web design approach that creates an optimal viewing experience regardless of what device you are on. The site and code are intelligent enough to know you are on a tablet or an iPhone and adjust your viewing experience accordingly. This is the future.
Internally, we are in the process of converting all our sites to responsive sites. I can tell you one thing, its not cheap.
I hope this article has been helpful and has given you some ideas for your own SEO strategy.
~Sal