SEO Tips for 2015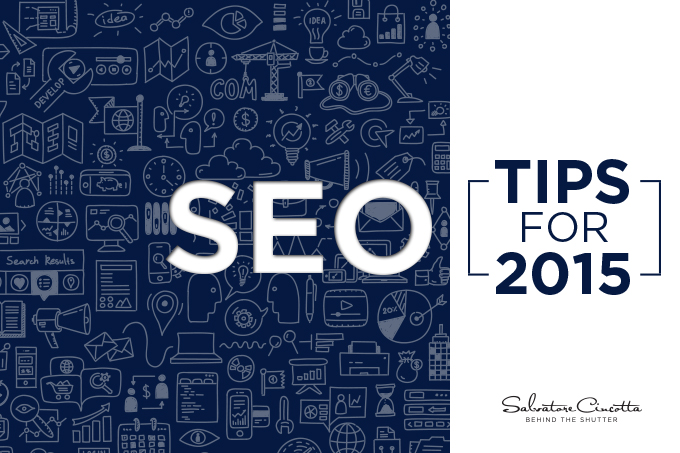 2015 is here! Seems like it snuck up on all of us, but one thing is for sure, the internet is not going away. In fact, its just becoming more and more ingrained in our every day lives. And as you can imagine, it will become more ingrained in the lives of our clients and how they find a photographer to document their special occasion.
How will you ramp for 2015 to make the changes required for a better search engine rank? Here are some tips to ranking better in 2015.
Page load speeds.
This can not be ignored. Google is making this a priority and will penalize your site if it takes too long to load. How long is too long? Well its all relative – we are talking milliseconds, BUT keep in mind, every new whiz bang plugin you load on to your site will cause it to load slower. Not sizing your images correctly will cause your site to load slower.
For me, I keep plugins to a minimum. I avoid flash when I can. I keep my image sizes to about 900 pixels @ 72dpi. This is very important to keep load speeds down.
A great site to use to test your results is https://gtmetrix.com
Check out my site results below. I just got thumped on my images not being optimized. Looks like I have some work to do. As I would imagine we all do as photographers. Finding that balance between performance and looking good on screen is never easy.

Geotargeting
Look for Geotargeting to be more prevalent in 2015.
Some interesting stats according to Search Engine Watch,
59 percent of consumers use Google to find a reputable, local business every month.
50 percent of all mobile searches are conducted with the purpose of finding relevant, local results.
61 percent of those searches result in a purchase.
Approximately 27 percent of total U.S. Internet time is spent on social media sites.
48 percent of users who land on a business site that doesn't work well on mobile take it as an indication that the business just doesn't care.
So, what can you do? Well, for starters, be sure to have address and contact information on every page. That's easy enough to do. Next, realize, that people are searching for local vendors. How often is someone looking for a family photographer 3 states away. Unless they are traveling to that state for the holidays, none. And I might add, in that case, they are looking for a local photographer. See where this is going?
Content Marketing will be king
If you don't know what content marketing is here is a quick definition according to Wikipedia.
Content marketing is any marketing that involves the creation and sharing of media and publishing content in order to acquire and retain customers.
In a nutshell, it means we have to create content. We can't just post pretty pictures. We have to give people a reason to come to our site, share information, tag it, etc.
If you are a wedding photographer start creating content that will make you the expert on wedding photography. What things to consider when planning a wedding. Create a blog with guest posts. If you are a senior or portrait photographer, what goes into selecting the right photographer? What should I be looking for? Of course, we should still show our pretty pictures, but are you getting the gist here? Content is king!
Must be mobile friendly
Responsive. This is the current buzzword. In a nutshell, it means your site must scale for all platforms. Desktop, laptop, tablets, and mobile devices. Well, my site for one, does not do this. And I know its hurting my ranking right now.
For 2015, this is a major initiative for me and something I know has to happen. Do not wait on this. More and more visitors are coming from mobile devices. If you are not sure, check your Google analytics. On my site, last month, 25% of all visitors were on mobile or tablet devices. That number is only going to continue to increase. We all have to prepare or we will lose the business to frustrated users.
Timely content
That's right ladies and gents, its not about just posting content one day when you have a wild hair. It's about consistently posting relevant and timely content.
Relevant is defined by ensuring you have your keywords worked into your posts. Timely, is weekly as far as I am concerned. I have noticed when I am in the middle of wedding season and posting every week – my ranking bolts up to the top of the list. However, when we get into slower months, my ranking will fall a few spots to my competitors who are posting with more frequency.
The good news is, we don't have to write like idiots any more with our keywords being used every other word. Google has figured this out and is looking for natural language.
Social Media Integration
Not sure this is on anyone's radar at the moment, but I am making a prediction here. Either this year or very soon thereafter, Google will announce it's putting weight on social media in some form or fashion. I am not sure how it will all work, but it's only a matter of time.
Think about it. Isn't this the most logical thing you have ever heard? Did you read the stat above? 27% of all US traffic is spent on social media sites. This is where people are. It's how they are making decisions. And to ignore someone's social equity when returning search results is an incomplete service.
Google and the other big players will figure this out and soon, will return results based on some magical formula.
So, what does that mean for you? Stop ignoring social media. ENGAGE. At a minimum, make 2015 your year to set up your sites and properties on all major platforms and just start using them. You just might be surprised at the results.